CrowdJam was first created for USC's biggest hackathon, HackSC. All of our developer's had faced the problem of playing music for a large crowd, whether it was for GameDay tailgate or just hanging out with a few friends.
Our solution was to leverage Spotify's API to create a voting system for songs. A user can open up CrowdJam, access their DJ's playlist, suggest songs, and vote on songs other people have suggested. This way, if the crowd wants country music, those songs bubble to the top, and are more likely to be chosen.
As is the case with most hackathon projects, the codebase was too messy to continue using. I'm currently in the process of rewriting CrowdJam, porting the project to a web interface, and adding new features. CrowdJam isn't currently a public repository, however, you can access the hackathon code on GitHub, under the project's original name - Playlist Hero.
Playlist Hero on GitHub

Poker Island is a Java program made for a group project in USC's sophomore level class CSCI 201, Introduction to Software Development. Our group of 5 designed the entire project, from the initial planning to the deployment.
We decided on an online poker game, considering the minimum viable product was fairly small, and there was no end to the features we could implement. Poker Island, as a finished product, has its own server, user account system managed by a MySQL database, multi-tabling, as well as queued actions. Its GUI is written mostly in Java's Swing. I worked extensively on the back end, creating our message passing and parsing algorithms (we weren't aware that RPC even existed at the time), and class structure, as well as some client-side GUI. As we finished the project, we decided to go with a tropical theme, hence the name Poker Island.
If you're so inclined, you can run your own Poker Island server and play with your friends!
Poker Island's Tropical Tables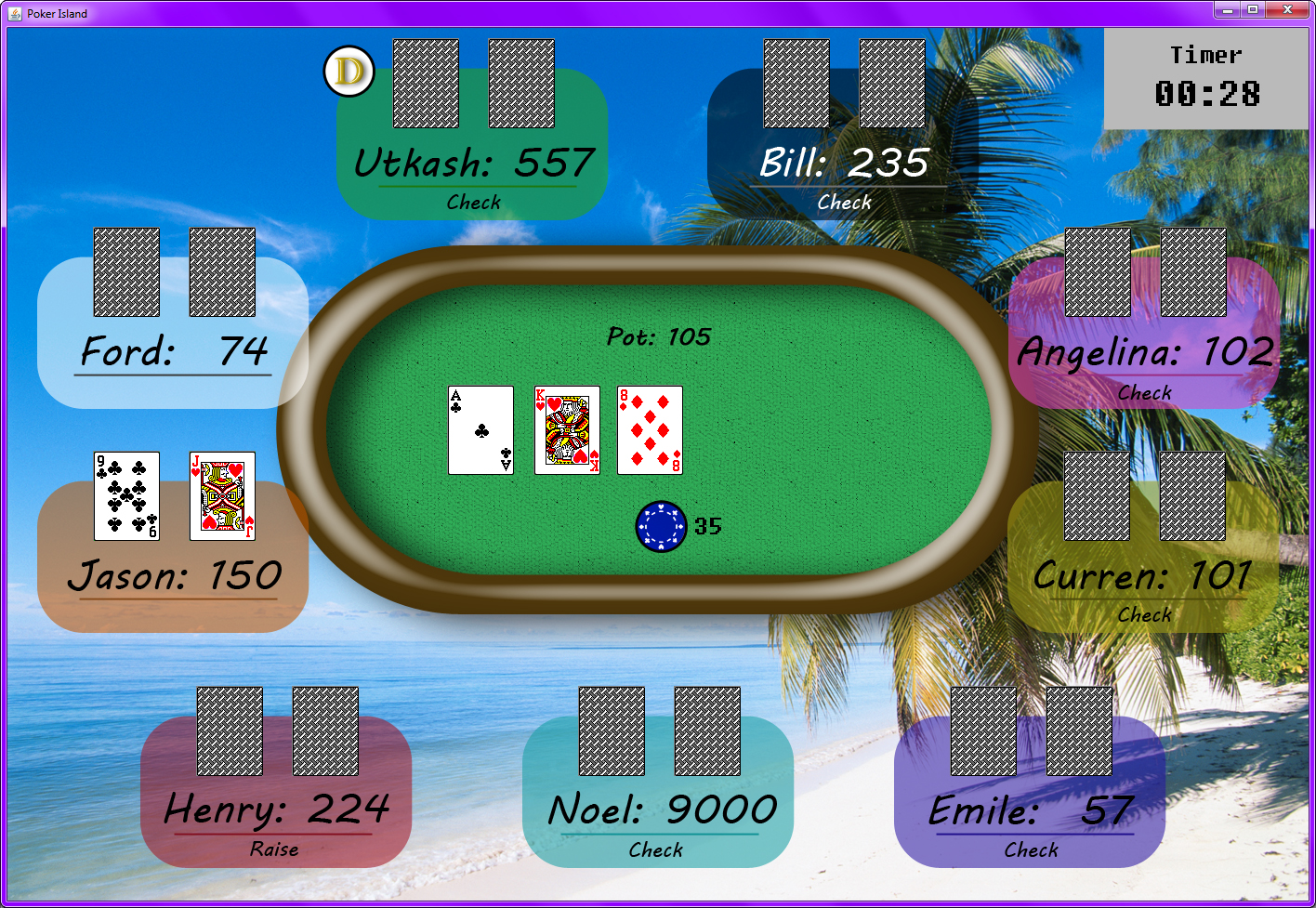 Poker Island Server on GitHub
Poker Island Client on GitHub
Wordventure is an Android app I helped develop for In A Day Development. The app is used by schools to teach the parts of speech to students. Students select a wordventure, and receive a list of parts of speech. Then, they fill out the list, and can view their completed wordventure, and share it with their friends!
The Android version of Wordventure hasn't been released yet, however the iOS version is available below.
Wordventure for iOS